As we've said before, your academic advisor is an important pillar of earning your degree. Your advisor is your teammate. Your advisor is there to help you navigate your degree plan and help you accomplish your goal. They are here to help you tackle your degree one semester at a time.
There is no better example of an advisor being your partner and teammate than Joyce Powell.
Joyce is a dedicated academic advisor for our Industrial Engineering Technology (IET) and Industrial Engineering Technology (Logistics) online degrees. One of the most unique things about Joyce is that she earned her master's degree fully online. That means she understands the challenges that online students might face. She understands that an online student may have different needs than a traditional face-to-face student. And she is here to help every step of the way!
Let's meet your iet advisor!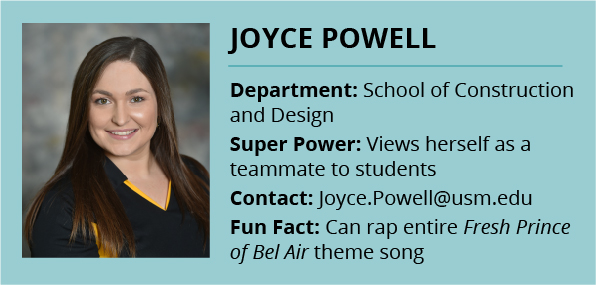 Q. What is your preferred way to be reached?
A. The best way to reach me is via email. If you would like to meet in person or schedule a phone call, you can email me to set up an appointment.
Q. What are your office hours?
A. I do not have set office hours. My typical schedule is 8AM-5PM (CST) Monday-Friday. If you would like to schedule a meeting, you can send me an email to do so. However, I am typically very responsive via email and many tasks or questions can easily be resolved with an email.
Q. What are some "insider tips" for students looking to earn their Industrial Engineering Technology (IET) degree online?
A. I would encourage students not to be afraid to ask questions or tell someone you need help! Online programs have the added challenge of not being able to physically seek someone out for help and it can sometimes be frustrating when you feel like you can't immediately find the information needed on a website or other document. If I don't know the answer, I will help you find the person who can.
I earned my Master's degree online, so I understand the unique challenges of completing a degree online. Self-discipline and communication are absolutely imperative if you want to successfully earn your degree online.
Q. Advice for prospective IET students
A. I would encourage students who are interested in the IET program to reach out for information early – especially transfer students. I am happy to help you get an idea of what courses may transfer over and provide advice on what courses they can take at the community college level before transferring to USM.
Q. Fun fact about yourself
A. When I was younger, I won a spur of the moment contest at a youth conference by rapping the theme song to Fresh Prince of Bel Air from memory.
Q. Your favorite part about working with students?
A. My favorite part about working with students is when I can tell I made a process easy and stress-free for them – whether it is registering for classes, putting a course plan together, or applying for graduation. I love making it a seamless process for students because I would rather they be able to focus on doing well in class and taking care of other responsibilities such as work and family.
Q. How they can get the most out of their advising time with you?
A. Students can get the most out of their advising time with me by being prepared with any questions and being clear with their expectations. I love it when a student comes to me and expresses their goals to me clearly on the front end. That way, we can work together to create a realistic and well-thought out plan in the beginning so that we are on the same page from the get-go. If students don't have a specific plan, I am happy to help them put one together.
Q. What do you preferred to be called?
A. I prefer to just be called Joyce. I view myself as a partner to students during their journey at USM. It is my intent to help students achieve their academic goals in the most efficient, yet effective way possible!