With online learning at The University of Southern Mississippi, you earn the exact same degrees as on-campus students do. That means you're being taught by the same professors who teach on our Hattiesburg and Gulf Coast campuses – like professor Dr. Joel Bolton! Since being an online student means you probably won't bump into a professor and have a casual conversation with them on the way to lunch, we want to bring the professors and conversations to you! In this series, we will be asking professors about online learning.  We will discuss everything from what to expect in an online course to misconceptions about being an online student.
First up in this series is Dr. Joel Bolton, from the Management & International Business program. Dr. Bolton physically teaches at Scianna Hall on USM's Hattiesburg campus, but through his Management 400 online class, he has taught students from many different locations.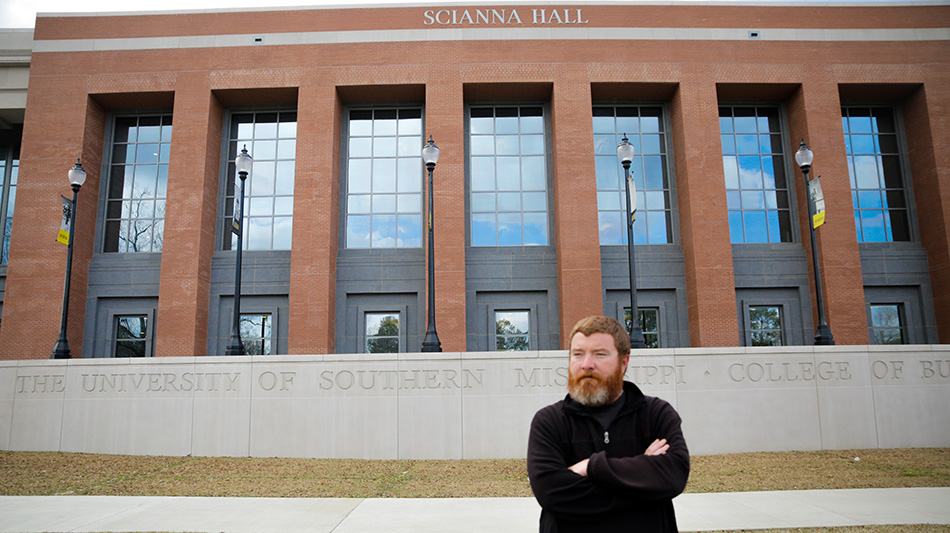 Q. Do you feel that online learning is much different from face-to-face learning? If so, how?
A. I have been told by many students that I am hilarious. Humor is about timing and reactions, so it is difficult to transmit humor effectively without the synchronous personal interaction space that a physical classroom affords. Other than that main difference, the format does not matter very much. Learning is simply the discovery of a meaningful connection between "the one who does not know" and "the one who does know."  This can happen in a conversation, the pages of a book, the clicks of a website, and just about any place between any two people. I learn from my students, and my students learn from me.
Q. What is something unique about your teaching style that is positive towards online learning?
A. My professional background is in corporate finance, so I value disciplined hard work and the establishment of deadlines to foster productivity. Because all of my capstone students have achieved senior standing and are nearing graduation, I simply assume they will work hard. Given that online learning is often asynchronous, clear deadlines communicated at the beginning of the semester help students keep a firm footing as they progress through the course. Disciplined work habits and firm deadlines create an indelible environment for success that closely reflects the reality of life after university.
Q. In your experience, what's the most common misconception about online learning?
A. Online courses are not "easier" than face-to-face courses. Each college and department on campus faces strict accreditation standards, so the goal of the faculty and staff at USM is to keep the level of rigor similar between the various course delivery formats. Although each student perceives university life through their own grid of personality traits and learning styles, the content will likely be the same across formats. I am an extrovert who gains much energy from interpersonal interactions, so I find face-to-face classes to be "easier" than online courses. However, if I lived a long distance from the university, the opportunity to reduce or eliminate my travel expenses with online courses might be a more salient factor than the desires of my extroverted personality. Regardless of how a student completes the coursework, USM is committed to making sure that each earned degree signals a high-quality education.    
Q. What advice would you give a student who is new to online learning?
A. First, and most important, master the use of the clock and the calendar. There are many proven methods available to manage your time, so choose one. Most forms of goal achievement will require time management skills. Second, create a strategic plan for your coursework based on the assumption that your computer will crash in your hour of greatest need. One possible strategy could be to purchase a USB flash drive, save your computer files often, and identify alternate computers available near your location (friends, family, university computer lab, public library, commercial in-store workstation rental, etc.). Many strategies are available. Plan your work, and work your plan.
Q. What is one of your favorite aspects about teaching online?
A. Like most of my students, I am a person with many other responsibilities. The online teaching environment allows me (as well as my students) an extra measure of freedom when it comes to scheduling course-related work effort. The additional freedom requires responsibility, but that has always been true of freedom.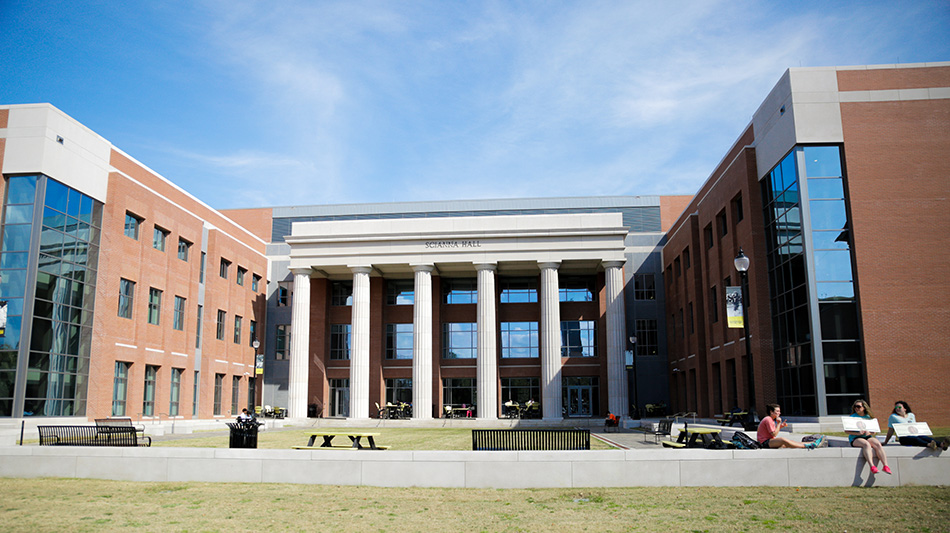 Q. What are ways that you help your students feel connected in the "classroom" even when they might be thousands of miles away from each other?
A. One of the best pieces of advice I ever received is, "Use your resources." I encourage students to make use of the ubiquitous collaboration tools that already exist. USM has already invested in many helpful resources for students. Beyond that, there are many other tools that are free of charge, and most work well to achieve the goal of connecting with other students. In my experience teaching hundreds of online students over the course of my academic career, I can honestly say that I have never been asked for help in this regard. My "digital generation" students know more about this than I do.
Q. Do you have any tips for students to balance their online school work with their current full-time job?
A. Do not attempt coursework while you are "on the clock" unless you have explicit written permission from your employer. Employers purchase your time and attention. If your full-time job requires you to sell 40 hours to meet the job requirements, then 128 hours remain each week. Many of these hours can be allocated for coursework. Set a series of appointments with yourself and keep the appointments.
Q. Do you have an interesting fact about yourself that you would like to share? 
A. I delivered over 42,000 pizzas as an undergraduate student at Texas A&M University.
That is an impressive amount of pizza deliveries! Thank you, Dr. Bolton, for your valuable insight into online learning.