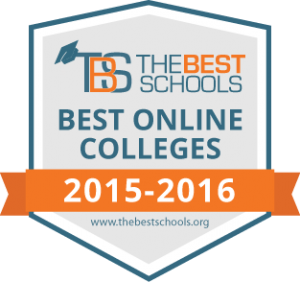 You may have seen our post a few weeks ago about being chosen as the best online college in the state (you can click here to read about it if you missed it!). We have more great news to share with you today! We are now ranked #33 in the nation for the Best Online Colleges 2015-2016 by TheBestSchools.org! We couldn't be more honored to receive this amazing ranking.
"This ranking of the best online colleges and universities is based on extensive research and familiarity with American online education. In formulating this ranking, we looked to such factors as academic excellence, scholarly strength of faculty, online teaching methods, tuition costs, reputation, awards, financial aid, and range of degree programs offered."
If you would like to read the full article of the top 50 Best Online Colleges, click here! We hope to continue improving and enhancing your online learning experience every year. Big thanks to the faculty, staff, and students who made this ranking possible! This is another badge of honor that proves Online at Southern Miss is truly a golden opportunity.
If you would like to check out our many fully online programs, click here!
Southern Miss To The Top!