For the past few years, Online at Southern Miss has been recognized as a Top Military-Friendly Online College. One of the main reasons that we've been chosen as a military-friendly online college is the online support that we offer our military students and families. An example of that online support is our free online military tutoring!
One of the options Southern Miss uses for free online tutoring for U.S. Military Families is Tutor.com. This site can help active duty service members, and even their families, in all core subjects at all skill levels. Students can get personalized help in subjects such as statistics, Spanish, algebra, biology, and can even essay writing.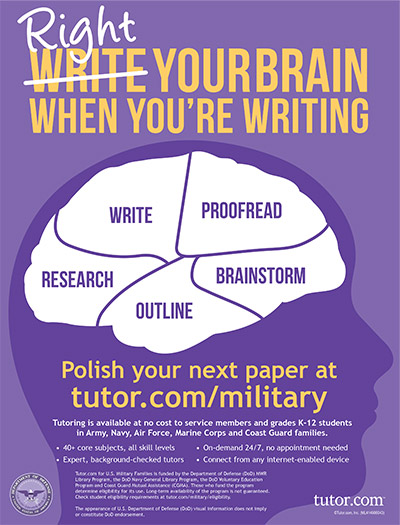 USM's Center for Military Veterans, Service Members and Families also offers an abundance of free resources to their online military students. These resources include USM Campus Action Referral and Evaluation System (CARES), a team of campus professionals who respond to reports of concern regarding the academic progress and well-being of students. They also offer Personal Development Self-Study Guides, reference cards to support your future job search, companies with Veteran hiring programs, along with resource and training programs for veterans!
Southern Miss wants to serve those who deserve it most: our service members, veterans, and families.
Let us help you through your academic journey by taking the first step and filling out the form below for more information on any of our fully online programs!