Here at Online at Southern Miss, we strive to allow you to focus on your education; not on how to pay for it. That's why when Affordable Colleges Online ranked us as #1 Most Affordable Online College in the Nation for 2016-2017 we couldn't have been more proud! Our high quality education combined with our affordable college experience makes any online degree that we offer a great value!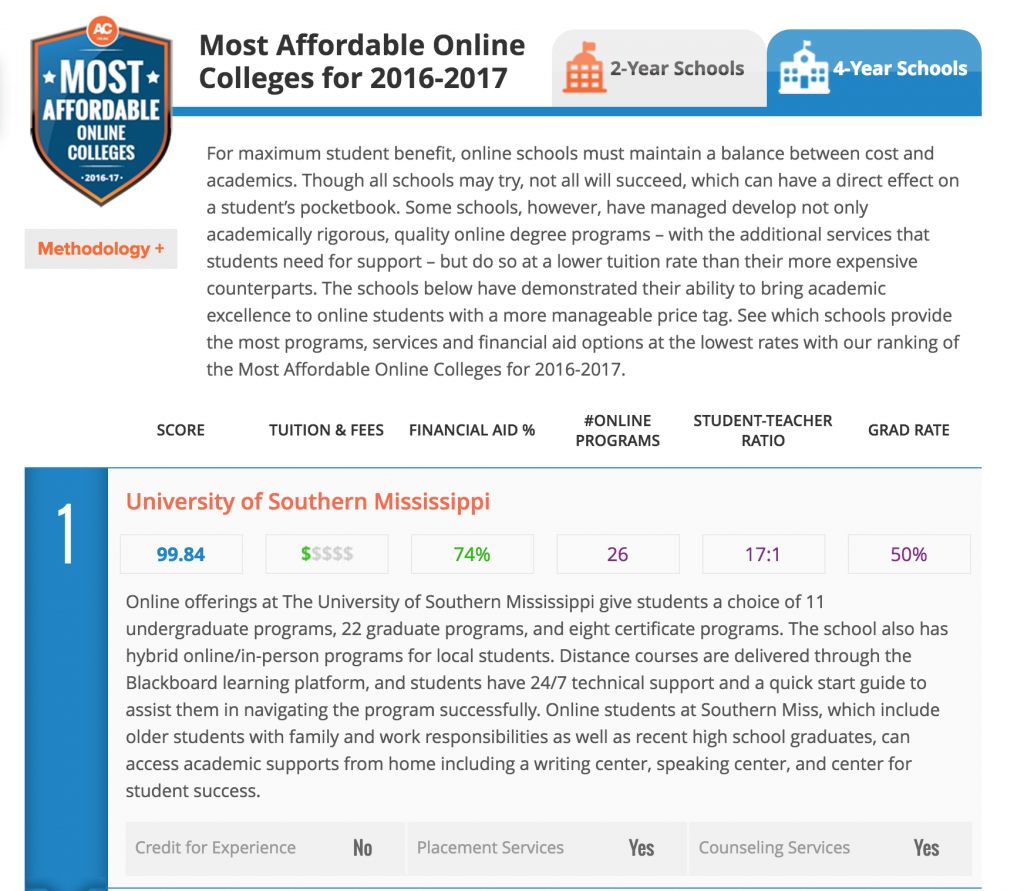 From the picture above, you can see exactly why and how we were chosen for the number one spot as the most affordable online college. Affordable Colleges Online (ACO) has rated the top 50 affordable online colleges in the nation on their cost-saving benefits. Those benefits include financial aid options, scholarships, and other monetary bonuses.
"On the surface, cost may seem simple. If tuition at College A is more than tuition at College B, then College B is cheaper, right? Not necessarily, especially with distance learning. In addition to standard tuition and fee differences between colleges, students need to think about secondary costs that may seem less important, but that surely contribute to the bottom line."
ACO gives their readers the entire breakdown as to what all fees can be attached to online learning that one might not think about before deciding to continue their education. Their attention to detail in deciding how they rank schools is a huge reason that we're so honored to be chosen as their top pick!
Online at Southern Miss strives to provide quality courses at a low cost, and we can point you in the right direction if you need financial aid or would like to apply for scholarships! You can check out all of our accredited online programs here or fill out our form below to get more in-depth information on any of our programs! To learn more about our pricing, click here!
Southern Miss To The Top!