Will my credits transfer? That might be the question of the century! But it's an important question to ask. You worked hard for those credits at your community or junior college! You want to make sure your hard work will transfer from one community college to another college or university.
Fortunately, we have a great tool for you to use to see what your credit equivalency would be from your classes at your community college in Mississippi to what they are here at The University of Southern Mississippi!
The Mississippi Articulation and Transfer Tool (MATT) enables students to compare current community college courses against equivalent courses at Southern Miss and learn how those courses meet degree requirements for a specific major!
Do community college credits transfer to universities?
Absolutely! Not only do most credits transfer, they transfer easily to Southern Miss! Through the MATT online tool, you can see which credits will transfer into your degree of choice. All you have to do is click the drop down list by "Filter by:" and then click "University of Southern Mississippi." You'll then be able to choose your intended major and see which credits will transfer in from your junior college into that major!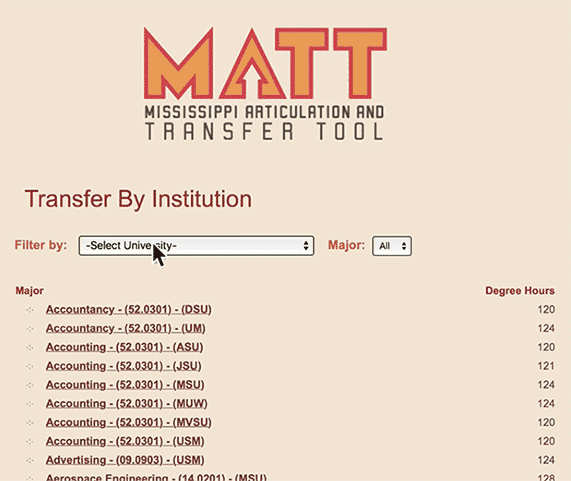 To be 100% accurate on which of your credits will transfer, you will have to get your transcript reviewed by the Office of Admissions. The MATT online tool is a quick way to see an overview of what credits from your Mississippi community college will transfer easily to your future degree here at Southern Miss.
As a future transfer student, we hope that the MATT online tool will be helpful to you! We also have an entire page of resources dedicated to everything you need to know.
From tuition cost to scholarships + financial aid, we have it all laid out for you on our Transfer page!
We hope these resources help your transition from your community college to our university as easy and smooth as possible. We're here to help you soar!